Additional Info
As Michelin®'s best-selling highway light truck tire, the LTX M/S2 stops shorter and lasts up to 20,000 miles longer than two leading competitors. This tire stops up to 7 feet shorter than other tires from leading competitors due to its distinct rubber compounds and improved lateral water evacuation. Driving confidence is ensured with the LTX M/S2 tire's MaxTouch construction that optimizes tire and road contact.
While the LTX M/S2 is not a dedicated snow or winter tire, it can deliver excellent traction in dry, wet, and winter conditions. All-season performance stems from the high-density 3-D Active Sipes of the tire's symmetric tread design.
Tire Highlights
3D active sipes provide improved handling (1)
Three circumferential grooves provide exceptional resistance to hydroplaning (2)
Silica tread compound provides exceptional wet handling and braking (3)
Additional sipes and large lateral grooves for improved snow traction (4)
Super high tensile steel belts for durability (5)
Nylon cap maximizes the tires contact with the road for improved handling and tread life (6)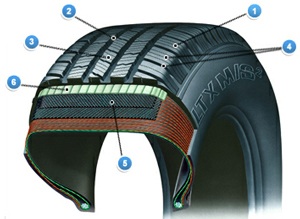 Warranties
---
70,000 Mile Manufacturer's Treadwear Limited Warranty
Available on: Michelin® LTX M/S2 Tires with Speed Rating: [H, R, T]
Michelin® LTX® M/S2 tires carry a 70,000 mile limited warranty in addition to the standard materials and workmanship warranty for treadwear or mileage.
* Mileage Warranty Exceptions
Split fitments - If your vehicle has tires of different sizes on the front versus the rear axles, your tires cannot be rotated as recommended. Therefore, the mileage warranty on each rear tire will cover half the number of miles as the standard mileage warranty for that particular tire line.
ZP (Zero Pressure) tires - The maximum mileage warranty for ZP tires is 30,000 miles.

Standard Limited Warranty
(All Michelin® Tires) 
All Michelin® tires have a Standard Manufacturer's Limited Warranty, which covers defects in workmanship and materials for the life of the original usable tread, or for 6 years from date of purchase, whichever occurs first. See warranty for details
---
View the complete line of Michelin Tires available at Butler Tires and Wheels >>