Additional Info
Aimed to deliver 33% more miles, these tires are made with MaxTouch Constructions newly-optimized contact patch and superior tread compounds. Reduced tire rolling resistance can help drivers save up to 82 gallons of fuel throughout the lifespan of the tires. These features combined make the Michelin® Latitude Tour tires truly an environmentally-friendly, Green-X tire.
Drive longer and farther in pure comfort with the Latitude Tour tire's Comfort Control Technology. Vibrations and road noise are reduced with the tire's computer-optimized design and precision manufacturing. Hydroplaning is avoided with the wide circumferential grooves that gives the tire is resistance characteristics. Added comfort is provided by Latitude Tour tire's belt edge cushion.
Tire Highlights
Silica tread compound provides exceptional wet handling and braking performance (1)
Wide circumferential grooves provide resistance to hydroplaning (2)
Tread compound reduces rolling resistance which results in fuel savings (3)
2D siping provides exceptional handling and braking performance (4)
Nylon wrap for high speed endurance (5)
Belt edge cushion provides exceptional comfort (6)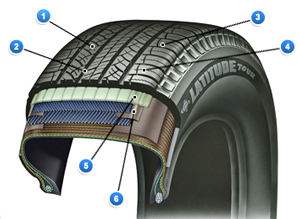 Warranties
---

65,000 Mile Manufacturer's Treadwear Limited Warranty
Available on: Michelin® Latitude Tour Tires with Speed Rating: [S, T]
Michelin® Latitude® Tour tires carry a 65,000 mile limited warranty in addition to the standard materials and workmanship warranty for treadwear or mileage.
* Mileage Warranty Exceptions
Split fitments - If your vehicle has tires of different sizes on the front versus the rear axles, your tires cannot be rotated as recommended. Therefore, the mileage warranty on each rear tire will cover half the number of miles as the standard mileage warranty for that particular tire line.
ZP (Zero Pressure) tires - The maximum mileage warranty for ZP tires is 30,000 miles.

Standard Limited Warranty
(All Michelin® Tires)
All Michelin® tires have a Standard Manufacturer's Limited Warranty, which covers defects in workmanship and materials for the life of the original usable tread, or for 6 years from date of purchase, whichever occurs first. See warranty for details
---
View the complete line of Michelin Tires available at Butler Tires and Wheels >>