Additional Info
By maximizing tire and road contact, Michelin®'s advanced MaxTouch Construction brings about longer tread life with its unique contact patch. Its all-weather tread compound molds into a symmetric design that features independent intermediate tread blocks, center ribs, and notched shoulders. Improved all-season handling, especially in wet and low-temperature conditions, is brought about by the Primacy MXV4 tire's 2-D active sipes that lock together in an alternate fashion.
To enhance ride quality while maintaining high-speed durability, Michelin® employs BAZ technology where spirally-wrapped polyamide are banded at zero degrees. You'll appreciate the quiet and comfortable ride the Primacy MXV4 tires provide through Comfort Control Technology.
Tire Highlights
Unique Tread Design (1)
Comfort Control Technology (2)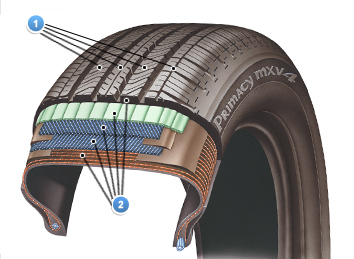 Warranties
---

60,000 Mile Manufacturer's Treadwear Limited Warranty
Available on: Michelin® Primacy MXV4 Tires with Speed Rating: [H, T, V]
Primacy MXV4 tires carry a 60,000 mile limited warranty in addition to the standard materials and workmanship warranty for treadwear or mileage.
* Mileage Warranty Exceptions
Split fitments - If your vehicle has tires of different sizes on the front versus the rear axles, your tires cannot be rotated as recommended. Therefore, the mileage warranty on each rear tire will cover half the number of miles as the standard mileage warranty for that particular tire line.
ZP (Zero Pressure) tires - The maximum mileage warranty for ZP tires is 30,000 miles.

Standard Limited Warranty
(All Michelin® Tires)
All Michelin® tires have a Standard Manufacturer's Limited Warranty, which covers defects in workmanship and materials for the life of the original usable tread, or for 6 years from date of purchase, whichever occurs first. See warranty for details
---
View the complete line of Michelin Tires available at Butler Tires and Wheels >>