Additional Info
---
A.R.T Engineering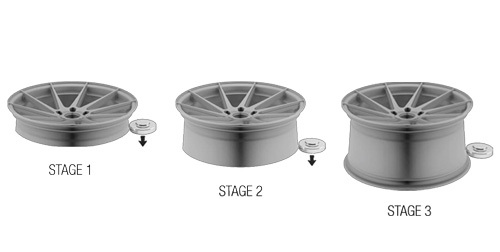 Avant Garde Wheels newest Advanced Rim Technology (A.R.T.) is the latest manufacturing process that incorporates traditional monoblock wheel casting methods with spin forming technology to drastically improve the material properties and enhances the overall strength of our wheels. The A.R.T. process impacts the micro-structure of aluminum by utilizing three hydraulic rollers to apply pressure to form the inner rim area after the wheel has been casted. The rollers move down the barrel, applying pressures to stretch, compress, and form the entire wheel barrel, ultimately increasing the tensile strength and elongation properties. The end product is a lighter, stronger wheel that has an increased load capacity and shock resistance over the traditional cast aluminum wheel. A.R.T. provides up to a 25% weight reduction compared to a traditional cast wheel. The Avant Garde M621 Wheel weights for 19″ sizes start at 21 lbs per wheel while the weights for 20″ sizes start at 22 lbs per wheel.
---
Ten Spokes, with a Twist
A true-directional ten-spoke concaved monoblock design utilizing Avant Garde Wheels Advanced Rim Technology (A.R.T) that not only rigidifies, but also reduces the weight of the wheel drastically without sacrificing performance.
---
Bespoke Fitments Available
Take full control of your fitment. Providing you with the option of achieving the most aggressive fitment possible without compromising performance.
---
Endless Finishing Options
The finishing possibilities are limitless. Available in polished and custom powdercoated options, customize your Avant Garde M621 Wheels to achieve the specific look you are envisioning.
---