Additional Info
FMR™ (Forged Monoblok Rim) is HRE's proprietary one-piece aluminum forged barrel technology. Made with the same process and from the same material as their one-piece wheel forgings, 6061-T6 forged aluminum, it is mated to a forged wheel center creating the finest 2-piece forged wheel on the market today. The HRE FMR™ barrel offers greater stiffness, reduced mass, higher concentricity and eliminates the air seal required of traditional 3-piece wheels.
The S1SC wheels feature aggressive styling similar to the Monoblok P1SC and employs multiple technical design features for increased stiffness and reduced mass. In typical HRE fashion, particular attention is paid to spoke details, including intersection points and the fastener flange surfacing.
Profiles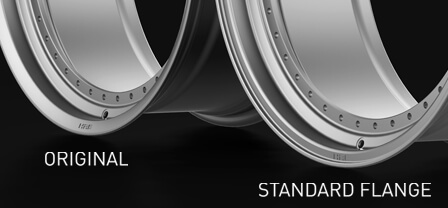 FMR™ barrels are available in two lip profile options, Original and Standard Flange:
The Original lip has a deep contemporary chamfer style creating a simple interface with the spoke ends and a large highlight
The Standard Flange lip emulates the motorsport look from traditional 3-Piece lips giving a more lightweight visual look with smaller highlights.
---
Butler Tires and Wheels in Atlanta, Ga. carries the complete line of HRE wheels in-stock and ready to install today! All HRE Wheels are available for local pick up or installation at any one of our 4 Atlanta locations or can be shipped world wide.