Unleash Your Vehicle's Full Potential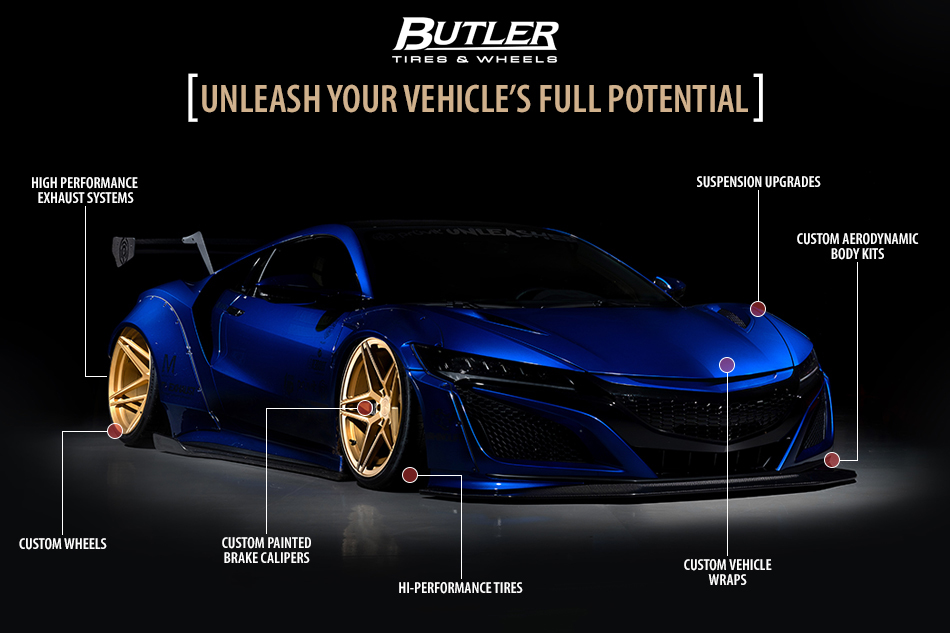 When a vehicle rolls off the factory line it's pretty much ready to roll right? Well, for the most part yes and for most people yes, but when you have to consider every single factor that goes into designing and building a vehicle to appeal to more than just one person - some compromises have to happen. For example, the wheels have to be durable, affordable and most of all be able to take a beating - otherwise it may look bad on the manufacturers behalf. The tires have to serve more than one purpose too; they can't just perform well, they have to last longer etc. With that being said, we feel that a vehicle off the showroom floor is a "one size fits all" mentality...
Well, at Butler we take that theory and throw it out the window...In this world, we believe that personalizing or customizing the vehicle to suite your needs not only makes you unique but offers many performance, appearance and safety advantages too. Changing the wheels to suit YOUR personality is one way, or maybe changing the tires too to better suite YOUR driving style and even down to adding some aerodynamic and performance components. These all fall into what we feel it means to "Unleash YOUR Vehicles Full Potential".
We're not saying the manufacturer got it wrong when they designed and built your vehicle; we just feel they supply us with a great foundation to "improve" on :)
---
---
Perhaps the single most appearance enhancing addition to a vehicle comes from selecting the perfect wheel and tire package from Butler Tire. Butler stocks hundreds of wheel styles in a variety of finishes, sizes and colors. View 1000's of examples in our online customer gallery or view specific brands on our wheels page. | More Info
---
Butler Tire stocks the name brands you know and trust like Michelin®, Continental, Toyo, Pirelli and BFGoodrich. We have a huge, in-stock selection of original equipment sizes and brands for all Cars, Trucks and SUV's. We also specialize in performance tires in sizes up to 32 inches for plus applications. | More Info
---
Add the finishing touch to your wheel and tire package or freshen up those dull and faded factory brake calipers with our brake caliper painting service. Butler offers brake caliper painting using most factory original equipment colors as well as thousands of aftermarket colors. We ensure no flaking, fading or chipping by only using the highest quality, high temperature paints available. | More Info
---
High Performance Exhaust Systems
Looking for that smooth and aggressive exhaust tone for your European or exotic car? Butler Tire stocks the highest quality exhaust systems from Fi-Exhaust, Capristo, Acrapovic and more. | More Info
---
For a dramatic appearance change consider an aerodynamic body kit from Butler Tire. Components can include replacement of front and rear bumpers, chrome or carbon fiber grills, the addition of side skirts, rear diffusers, roof wings and deck-lid spoilers. | More Info
---
From lowering springs to coil over suspension and even air ride systems, we offer a multitude of suspension upgrades to improve the handling and look of your vehicle. At Butler we take your ride's handling from excellent to exceptional. We stock suspension systems, coilovers, springs, and track spacers from H&R to give your car that extra edge on the street or on the track. | More Info
---
Contact us about your next project >>
---
Below are just a few examples of how Butler can "Unleash Your Vehicles Full Potential". Many more examples are available for viewing in our extensive vehicle gallery.
Click thumbnail below to enlarge