We vote this McLaren GT on 21in Vorsteiner V-FF 103 Wheels for Tooshie Tuesday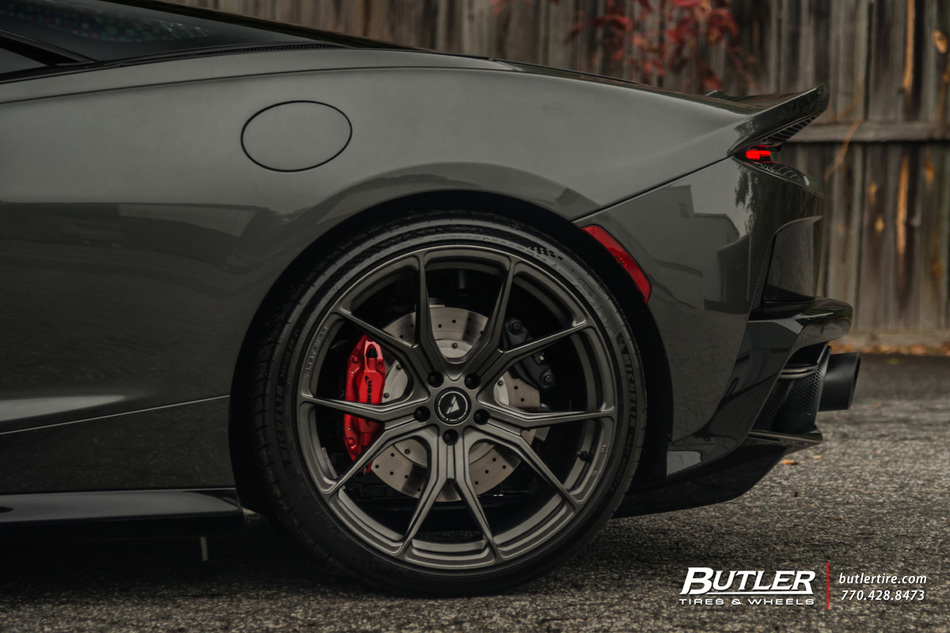 At the core of our heart are wheels & tires and sometimes that's the only change a customer wants. Enter this beautiful 2020 McLaren GT in a beautiful dark grey. The McLaren GT adds additional luggage room for the owner while still keeping the performance of the S. Our customer wanted to upgrades the OEM wheels & tires for something more stylish with a bit more performance. Butler Tire offers the largest in-stock inventory of custom wheels and hi-performance tires, with four locations in the greater Atlanta area.
Chosen were a set of Vorsteiner V-FF 103 Wheels in a shade nearly identical to the OEM paint for a monochromatic look. Measuring 20" in the front and 21" in the rear they fill out the wheel wells better than the smaller OEM wheels. We naturally went with one of our performance favorite - Michelin Pilot Sport 4S Tires. These tires have won numerous accolades for their dry and wet performance and are the standard for exotic vehicles.
No one in Atlanta has the experience or in-stock selection of Wheels & Tires Butler Tire offers. Contact one of experienced sales representatives at any one of our four locations to help customize your vehicle.
Photographer: Ryan Aberg AKA @hyprpwr (IG)
---
For more information, pricing and availability on this build contact us at: 770-428-8473 or online.
---
Click thumbnail below to enlarge