2020 Mercedes AMG GTC Coupe receives the Renntech and Vossen Wheels Treatment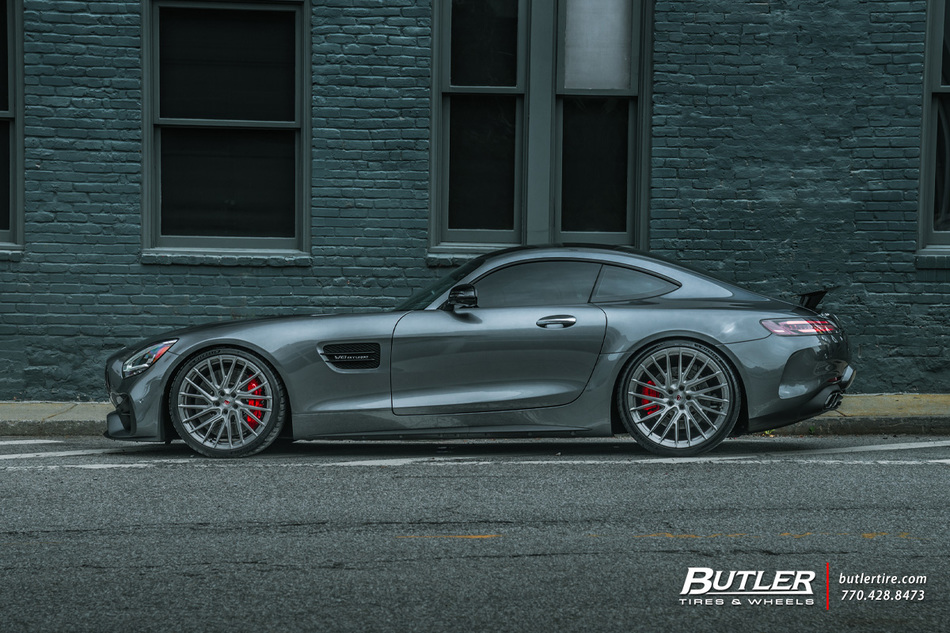 Though this 2020 Mercedes AMG GTC Coupe may sit right in the middle of the AMG GT line up, between the GT and GTR, this clean machine never fails to stand out! What separates the Mercedes GTC from its brothers is a bit more power and its widened fenders giving it a more attack ready stance. Within these larger fenders sit true directional rolling Vossen EVO-6T wheels, 20in up front and 21in in the rear, in a stunning brushed clear finish to offset this MGTC Coupes grey metallic finish.
From the factory this AMG comes with 550hp and 500lbft. However, this car is a part of the Butler Tire stable and more specifically is owned by our current V.P. of Marketing, Dani Freedman, and he would never settle for just 500hp. We have applied a whole list of awesome upgrades thanks to our friends at RENNtech. It now comes equip with a RENNtech tune, EVM (Exhaust Valve Module), and Blow Off Valves which brings up the output to over 650hp and 615lbft! To keep this beast in line we had the Vossen EVO-6T's wrapped in Michelin Pilot Sport 4S tires. Finally, how could we forget to mention the RENNtech adjustable lowering springs which keep Dani's amazing AMG riding at the optimal height for looks and performance.
---
Vehicle Owner: @dani_butler_ (IG)
Photography: @hyprpwr (IG)
Video: @lee.media (IG)

---
For more information, pricing and availability on this build contact us at: 770-428-8473 or online.
---
Click thumbnail below to enlarge