Ferrari 458 Italia Ghost Edition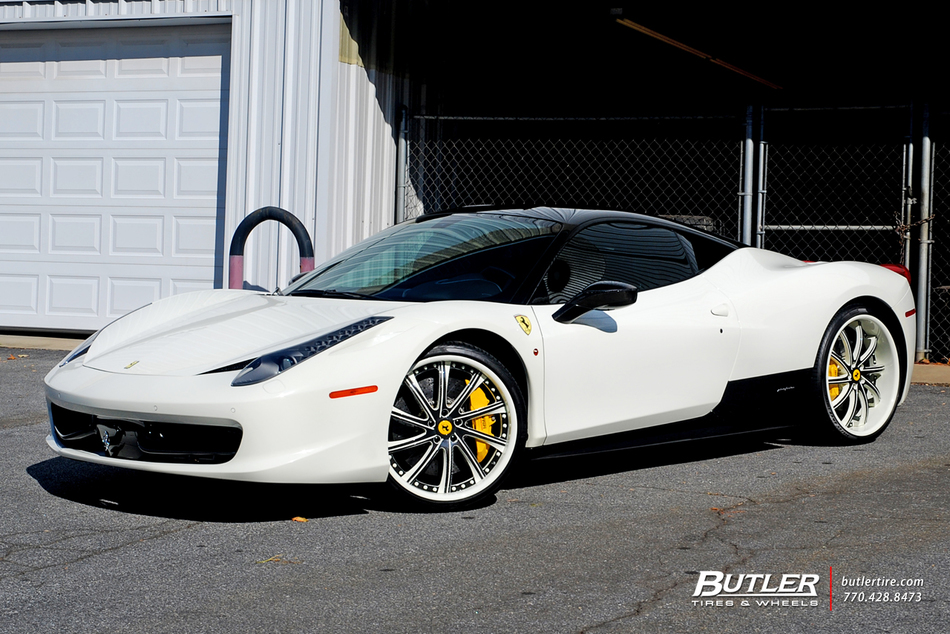 It was not easy making an iconic Italian machine better, but we think we successfully pulled it off!
We successful managed to "Butlerize" this Ferrari 458 Italia while still being able to maintain it's beautiful Italian style.
First things first: Wheels. We chose Savini Wheels as we felt that a set of their SV37s rims complimented this Ferrari 458 Italia perfectly without overpowering it. After all, this bad boy still needs to be the star of the show.
The Savini SV37s is a multi-spoke wheel that took to paint beautifully using original Ferrari paint on the faces - to match the 458's exterior. Next we painted the outer lips and part of the spokes white to really make the Carbon Fiber features stand out. This car doesn't look big going down the road but the front fenders swallowed a pair of 21x9 inch rims with 255.30.21 Pirelli Nero tires like nobody's business. Out back a pair of 22x11.5 inch rims wrapped in 315.25.22 Pirelli Nero tires gets that crazy power to the asphalt. That's some pretty serious rubber - a 315 sized Pirelli measures almost 12.5 inches across!!!
As far as performance goes, what else can you do to this already amazing piece of machinery? We decided to add the Capristo 458 Italia Valved Exhaust System. This system is extremely lightweight, adds to the vehicles' horsepower, and has a much deeper sound than the factory system. As an added bonus this particular system comes with a remote that activates the 458's built in exhaust valves. This is something that is normally handled automatically by the vehicle's computer once the exhaust has reached operating temperature but now we have total control over the tone and sound of the exhaust. By using the remote control we can make the exhaust louder and deeper on command, or keep it subdued and mellow.
Putting this all together was really a challenge and we hope you agree with us that this Ferrari 458 is definitely "What's Hot"!
Click thumbnail below to enlarge